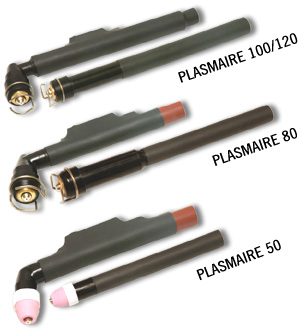 - AIR PLASMA CUTTING

Matter surrounds us in different states: solid, liquid, gaseous and plasma.

To change to plasma state a gas should be heated so intensely that it become ionized and thereby electrically conductive.

Gas emerges from the nozzle through the arc at a very high density, temperature and velocity, hitting the work piece so that the metal beneath the nozzle is almost instantly melted and blown away.

Since the plasma arc is so intensely hoy, over 20000 ºC, it can cut all electrically conductive materials.

Initially, the metod was limited to non-alloy steels but now plasma arc cutting can be used to work on difficult mechanized materials including aluminum, stainless steels and copper.

- PLASMAIRE EQUIPMENT

- Cut all kind of metals, even painted.
- Very high cutting speed compared with oxiacetilene, low deformation.
- Low cost consumables, with extended life.
- Designed for industrial use, overpowered; the duty cicle goes from 100% to 60% at the maximun range, but in Plasmaire 150 the duty cycle is 100% in all ranges.

- WHERE IS THE PLASMA CUTTING NECCESARY?

- Armored vehicle manufacture and repair
- Automotive repair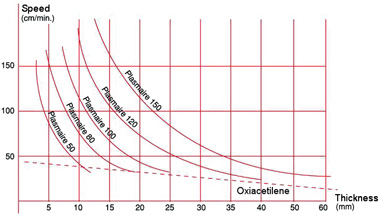 - Commercial ship repair
- Demolition and salvage
- Farm equipment maintenance
- Food processing
- Heating, ventilation and air conditioning
- Metal building construction
- Railway and railyard maintenance
- Recreational boat manufacturing
- Sign manufacturing
- Steel service centers
- Tank and vessel fabrication